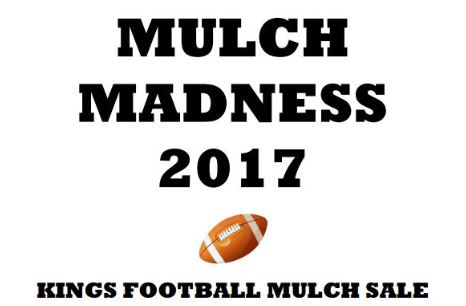 Spring is right around the corner, so it's time to start thinking about MULCH! The Kings Football Team is holding their Annual Mulch Sale. This year, you have a choice of Hardwood, Black Gold, and Black Dyed mulch. All mulch comes in 2.0 cubic foot bags and the cost is only $4.50 a bag.
The Football Team offers FREE DELIVERY to your home or place of business on April 22-23. To be eligible for free delivery, you must be within a 5-mile radius of the Kings School District with a 10 bag minimum.
To order contact a Kings Football player or call/email Coach Garvin at 513-398-8050 ext. 11003 or agarvin@kingslocal.net or Coach Olds at 513-398-8050 ext. 12021 or aolds@kingslocal.net.
Deadline for orders is April 14.