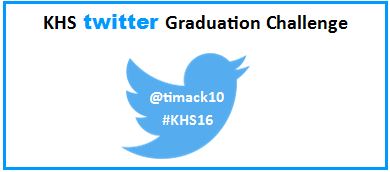 Graduation is right around the corner! As your superintendent, it is customary that I give a graduation speech. Now, I know that when parents, families, and friends come to a graduation ceremony, they want to see their beloved students walk across the stage, hear their name, and celebrate with the graduates. Graduation is about the students; it is not about the speeches given by adults.
Let's face it, on this special day, no one really wants to hear a long-winded speech from the superintendent! This year, my first year at Kings, I am asking for your help. Since graduation is about YOU, the graduates, I would like to ask you, our seniors, to help me craft my graduation remarks.
Help me to launch a Twitter Graduation Challenge. If you are a senior in the Class of 2016, tweet me at @timack10 with a single quote that captures your feelings about your Kings school experience. I will choose a few winning quotes to use in this year's graduation speech. Please remember to keep your quotes clean and appropriate. Let's make this FUN!
Send your quote to @timack10 using the hashtag #KHS16. You will need to include both @timack10 and #KHS16 in your tweet. I will pick the top quotes and use them in my speech.
Graduation is a special time and I want it to be about YOU. Not every student has an opportunity to have a voice in graduation; this is your chance!
Happy Tweeting!