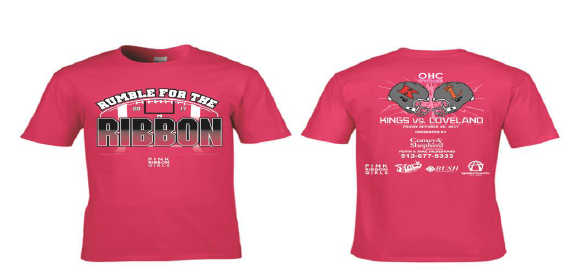 On Friday, October 20, Kings and Loveland will come together for the annual Rumble for the Ribbon Game. This year's game will be hosted by Loveland. This annual matchup between Kings and Loveland has earned the honor of being the #1 Pink Ribbon Girls Friday Night Pink Game out of all the games hosted across Cincinnati and Dayton.
All monies raised at this event will be used by Pink Ribbon Girls to provide FREE direct services such as meals, housecleaning, transportation and peer support to families in our area battling breast and women's reproductive cancer.
Help us turn the RED SEA into a sea of PINK in honor of all who have been impacted by breast cancer by purchasing a Rumble for the Ribbon t-shirt. Every year a contest takes place between Kings and Loveland to see who sells the most shirts, and Kings is hoping to remain victorious!
Please fill out this form and return it to your student's homeroom/team teacher or the Kings Athletic Office no later than Thursday, October 5. T-shirts will be delivered to students the week of 10/16. Shirts will be PINK and they are $10 each.