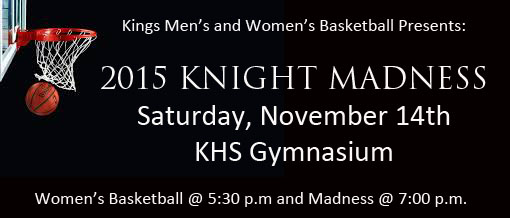 The Annual Kings Knight Madness will be on Saturday, November 14th in the Kings High School Gymnasium at 7:00 p.m. T-shirts are on sale in the Athletic Department for $10.00 and will grant entry into the event, otherwise admission is $3.00. Penn Station and Buffalo Wings & Rings are providing meals for $5 which can be bought at the door.
Our women's basketball team will take on the Ross Rams in an OHSAA Foundation Game at 5:30 p.m. prior to Knight Madness. Entry for the game is $7.00 per person with part of the proceeds benefiting the Sammy Reagan Foundation. Attending the basketball game grants entry to Knight Madness.
Knight Madness is an evening filled with food, fun, and interactive entertainment, courtesy of our winter sports teams. Performances by our Cheerleaders, Dance Team, and the FIRECRACKERS! The grand prize this year is an Apple iPad Mini. More information to come on Knight Madness including the date t-shirts go on sale! Join us as we recognize our winter athletic programs!
For more information click here.