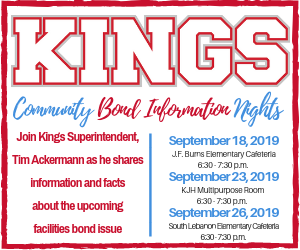 On Tuesday, November 5, Kings Local Schools will seek the passage of a bond issue for school construction and renovation. The passage of this 4.96 mill bond will finance the first part of the District's master facility plan to address growing enrollment.
Kings Superintendent, Tim Ackermann will be hosting three Community Bond Information Nights in September to give more information and answer any questions our community may have regarding the bond issue.
Please join us on either September 18 at J.F. Burns Elementary; September 23 at the Kings Junior High Multipurpose Room; or September 26 at South Lebanon Elementary. We hope to see you there and feel free to invite your friends and neighbors, especially those who don't have children in the schools.