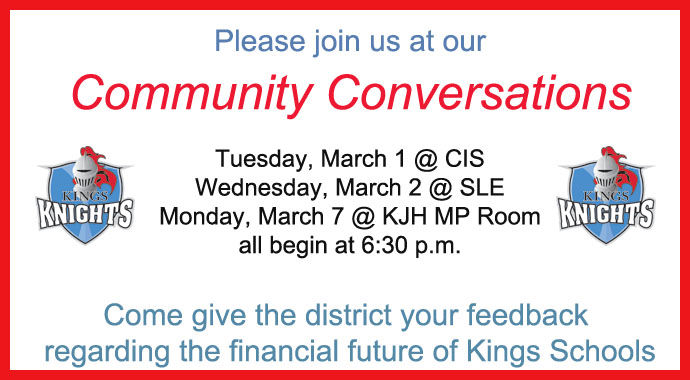 The Kings Local School District will host three Community Conversations in March to address the financial future and quality of the district. The Conversations will take place on March 1 at Columbia Intermediate School, March 2 at South Lebanon Elementary School, and March 7 at the Kings Junior High School Multipurpose Room. All conversations will begin at 6:30 p.m.
While district expenses are going up and state funding is flat, Kings is in the position of looking at how to fund district expenses going forward. We would like to gather community input on how to proceed with funding the future of Kings Schools.
Our financial forecast shows a need to increase funding as early as 2017. Our community supported an Operating Levy in 2010, which was promised to last three years. We are happy to report that we have been able to stretch that funding for six years. Our goal is to not only maintain, but improve the quality of education we currently provide our students. We would like to give our community a choice of how they feel is the best way to fund the quality of education we provide.
In order to do so, we will be asking for input regarding whether we should ask for new money by running a levy, (and if so, how much is reasonable), by making spending cuts, or a combination of both. If we are not able to secure new money, it appears that it will be necessary to make significant reductions in order to pay expenses.
Please join us at one of these three opportunities to give your feedback. We are so thankful for the support of the Kings Community. Together we will continue to be #KingsStrong!