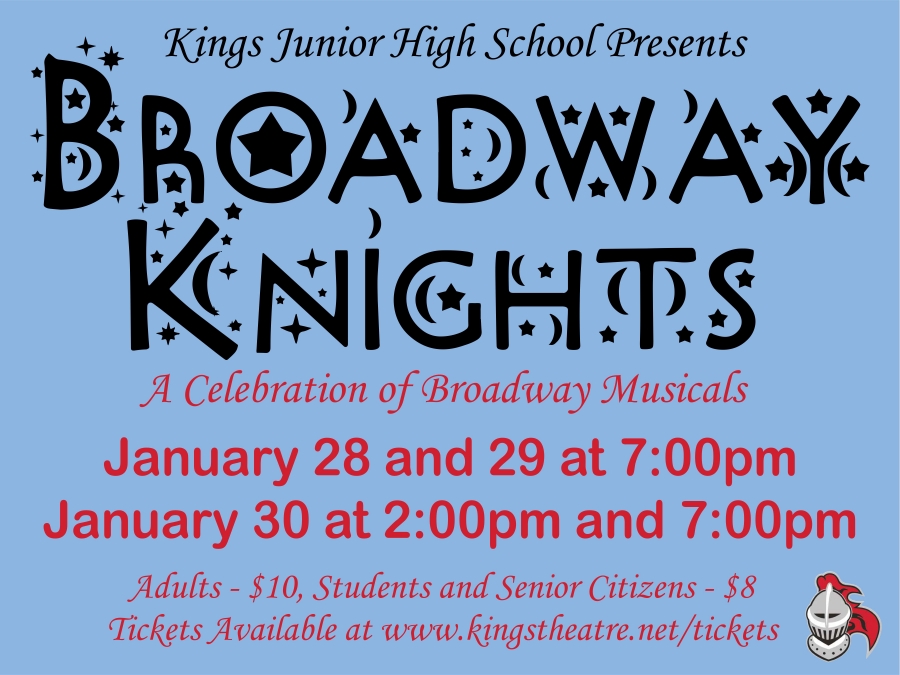 Don't miss out on your opportunity to see this year's Junior High musical "Broadway Knights." Join us for an evening filled with some of the greatest and most memorable Broadway music. Our revue-style musical will feature songs from some of Broadway's most famous musicals including Wicked, Dear Evan Hansen, Cinderella, and many more.
Due to the current capacity restrictions from the health department, there are only a limited number of tickets available for each performance. But a show is nothing without an audience. Per Gov DeWine's mandates, seating has some limitations for safety purposes:
* Limit of 94 audience members per show (15% capacity)
* One directional aisles
* Groups of no more than four non-family members may choose to sit together.
* Families may sit together even if there are more than four.
* Two open seats to either side of a person or group.
* Seating in every other row.
* Masks worn at all times
Showtimes are:
Thursday, Jan. 28 at 7 pm
Friday, Jan. 29 at 7 pm
Saturday, Jan. 30 at 2 pm
Saturday, Jan. 30 at 7 pm
See you at the show!!