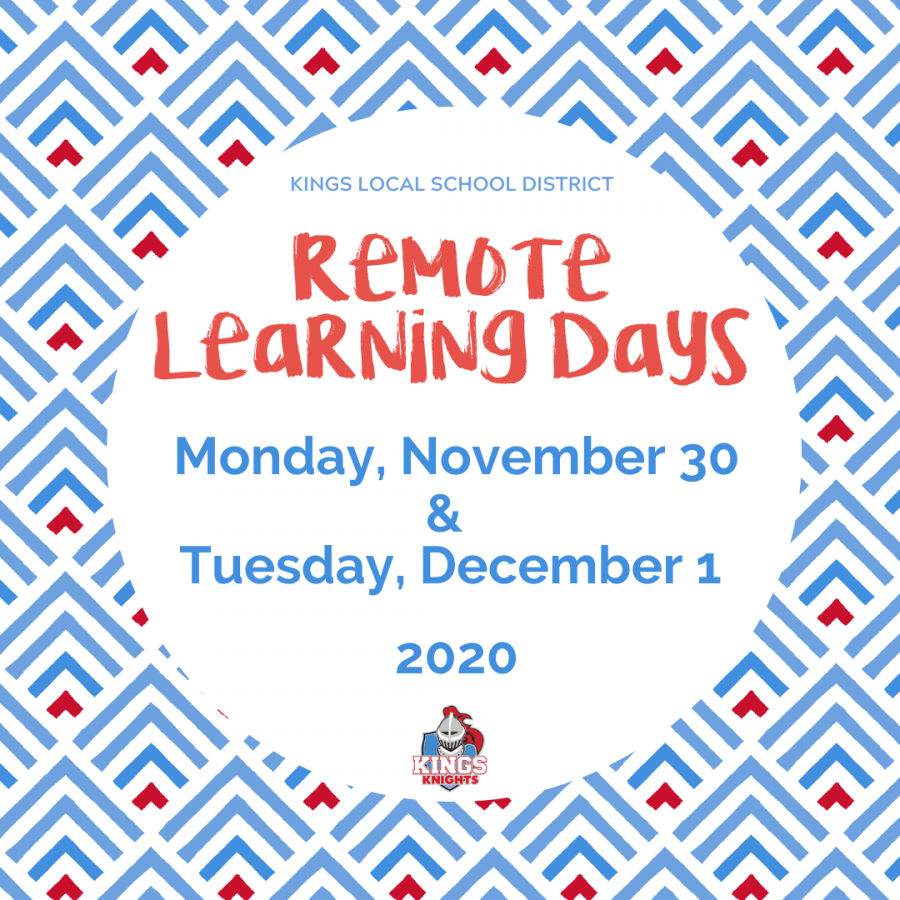 As we planned for the 2020-2021 school year, our biggest concern was delivering quality education while supporting the health, safety, and well-being of students, staff, and their families. We offered in-person and remote instruction to give families a choice that worked best for them. Our ultimate goal is for students to have all in-person instruction so that our schools can continue to provide all of the services that our Kings Local children need to be successful.
As of this morning, we have 332 students and 23 staff members out for COVID-19 related issues. We understand that the spike of COVID-19 in Warren County, Ohio, and the U.S. will most likely create an increase in positive cases and quarantines. The Thanksgiving holiday could potentially lead to major spikes in Coronavirus cases. We hope to significantly limit the number of students that may have to quarantine because of those unknowingly infected people that would come back to school and prevent others that may have to quarantine after the break.
In doing so, the Kings School District will move instruction to ALL REMOTE learning on Monday, November 30, and Tuesday, December 1 for all PK-12 buildings. This will also give our staff the opportunity to complete proper contact tracing from any cases over the holiday break and allow time for our currently quarantined and positive staff and students to return to school. Students will return to the in-person classroom on Wednesday, December 2.
All staff will report to the buildings on these two days. Please look for a remote schedule to be sent home from your child's teacher or principal. Kings Kids Childcare will not be available those days. Kings Food Service will still hold their remote feeding program on Monday at CIS from 2:00-2:45 p.m. If you are in need of meals, please email Kings Food Service Director, Jennifer Arlinghaus at jarlinghaus@kingslocal.net. Extracurricular activities will continue on a normal schedule.
Most individuals associated with our schools that have contracted the virus did not have an exposure at school. Rather, through our contact tracing, we have learned that COVID-19 is spreading outside of the school setting in large and small group activities such as:
Car-pooling
Sleepovers
Parties
Family get-togethers
It is essential that we all work together to mitigate the spread of COVID-19 in our community with the same determination that has allowed us to successfully open our schools this fall. Please continue to screen your students for the onset of symptoms before the start of school each day, and keep them home if they are sick or if they are waiting on a test result.
We thank you for your patience and trust as we continue to navigate these challenging times together. Our ultimate goal is to remain transparent and honest with our communication with all of you.