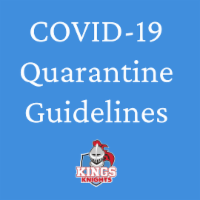 Governor DeWine announced that Ohio has changed its guidance regarding quarantines following an in-classroom exposure in K-12 schools.
As you are aware, originally, the guidelines required a 6ft distance, then new guidance came out requiring only a 3 ft distance. With the latest guidelines, moving forward, students and teachers exposed to a COVID-positive person in school are no longer required to quarantine as long as the exposure occurred in a classroom setting and all students/teachers were wearing masks and following other appropriate protocols.
We will continue to monitor each situation individually and may quarantine students if we believe it is necessary. For example, Kings will continue to require quarantines for exposed students in situations where masking and distancing protocols were not followed. The updated quarantine guidance does not apply to lunch and after-school activities, including sports.
Lastly, we will continue to distance our students as much as possible in the classroom and promote social distancing, mask-wearing, and handwashing.