Kings Junior High School
5620 Columbia Road ♦ Kings Mills, OH 45034
Grades 7 - 8
Phone: 513.398.8050, ext. 3
Attendance: 513.398.8050, ext. 32
Fax: 513.229.7974
Administration:
Eric Dunn, Building Principal
Ext. 12001 edunn@kingslocal.net
Taylor Rose, Assistant Principal
Ext. 12002 trose@kingslocal.net
Guidance Department:
Megan Apple, 8th Grade Counselor
Ext. 12007 mapple@kingslocal.net
Erin Hackman, 7th Grade Counselor
Ext. 12008 ehackman@kingslocal.net
School Nurse:
Melissa Dias
Ext. 11091 mdias@kingslocal.net
---
School Hours
MTWRF - 7:30 am to 2:00 pm
2 Hour Delay - 9:30 am to 2:00 pm
News & Announcements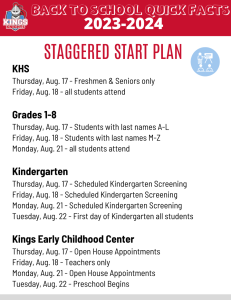 Posted on: April 21, 2023
Blog Entry Synopsis Begin
The Kings Board of Education approved a staggered start schedule for the 2023-2024 school year. Please see below.
Blog Entry Synopsis End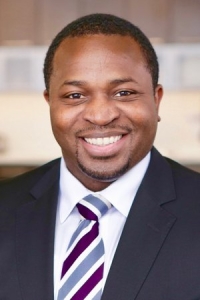 Blog Entry Synopsis Begin
After thirty-three years as head coach of the Kings Firecrackers, Lynn Kelley is retiring. What started as an afterschool activity for kids in South Lebanon, Kelley has grown the team into a national favorite halftime show. She is handing the jump rope over
Blog Entry Synopsis End