Side Menu Ends, main content for this page begins
Back to Side Menu (includes search)
Kings Treasurer's Office Earns Award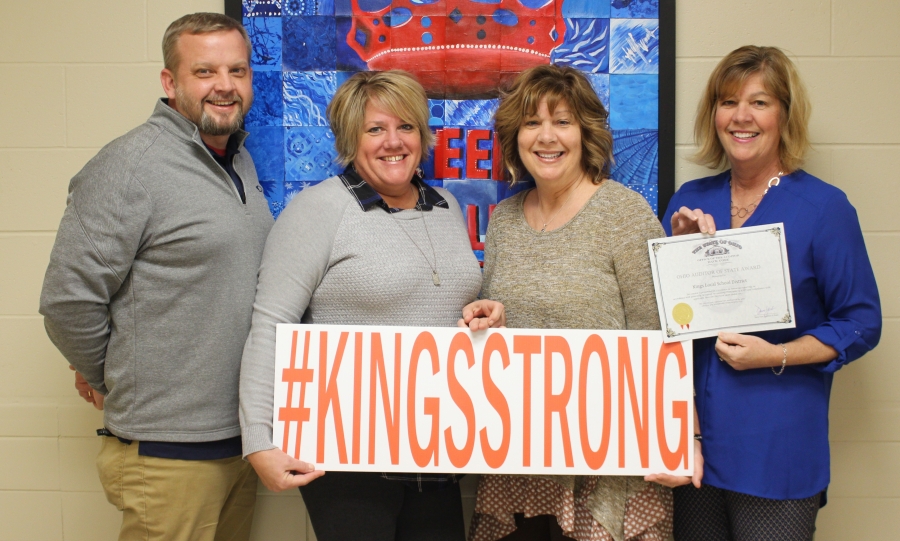 A recent financial audit of the Kings Local School District by the Auditor of State's office has returned a clean audit report. The Kings Local School District's excellent record keeping has earned it the Auditor of State Award for 2017.
The Auditor of State Award is presented to local governments and school districts upon the completion of a financial audit. To receive the award, entities must meet the criteria of a "clean" audit report such as filing on time, an audit that does not contain any findings for recovery, material citations, material weaknesses, significant deficiencies, Single Audit findings, or questioned costs.
The Auditor of State's office is responsible for auditing more than 5,800 state and local government agencies. Under the direction of Auditor Yost, the office also provides financial services to local governments, investigates and prevents fraud in public agencies and promotes transparency in government.
Congratulations to our hardworking Treasurer's Office Staff!
Pictured L-R: Tim Scott, Lori Kesner, Jill Nickels, and Jane Boehm.