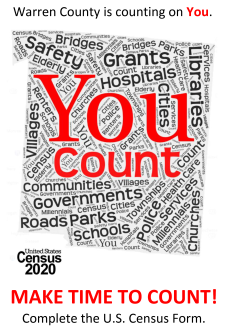 The U.S. Census Bureau will be conducting a decennial Census in 2020 to count everyone once and in the right place. It is critical that everyone in Warren County is counted. The census data is used for future transportation needs, planning, allocation of seats for the House of Representatives, grant money for county projects and schools, and more.
Taking part in the census is your civic duty. If you live in the United States, you are required by law to complete the Census. The 2020 Census marks the first time you'll have the option to respond online. You can even respond on your mobile device.
For more information click here.