Side Menu Ends, main content for this page begins
Back to Side Menu (includes search)
Congratulations to Our National Merit Scholarship Semifinalists!
Posted on: September 15, 2021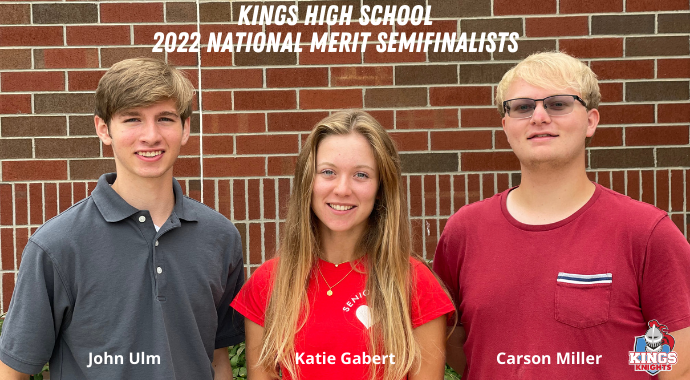 Three Kings High School seniors have been named semifinalists in the 66th annual National Merit Scholarship Program. The National Merit Scholarship Corporation (NMSC) mailed Certificates of Merit to principals across the country, notifying them of the students who have advanced to Semifinalist standing in the 2022 National Merit Scholarship Program.
Congratulations to Katie Gabert, Carson Miller, and John Ulm who are among 16,000 students from across the nation competing for $30 million in scholarships.
Katie is the daughter of Angela and Shawn Gabert. She is still deciding on colleges but Ohio State, Purdue University, and Georgia Tech are in the running as she plans to pursue a degree in Computer Science or Engineering. Katie has been active on the KHS Golf and Lacrosse teams while in high school. Her current GPA is 4.619.
Carson's parents are Kristy and Chris Miller. He is also looking at Ohio State and Purdue University, as well as Case Western Reserve as his college plans. He has decided on a Computer Science major. Carson is a member of the Kings Marching Band and Winter Drumline. His GPA is 4.346
John is the son of Gail and Michael Ulm. He is planning on majoring in Computer Science or Engineering at either Ohio State, University of Illinois, Purdue University, or the University of Cincinnati. John has a GPA of 4.571 and is a member of the Kings Marching Band and Winter Drumline.
To qualify as a semifinalist, students earned top scores on the 2020 Preliminary SAT/National Merit Scholarship Qualifying Test. Millions of students in tens of thousands of high schools take the exam each year. The nationwide pool of semifinalists, representing less than 1 percent of U.S. high school seniors, includes the highest-scoring entrants in each state.
These students have the opportunity to continue in the competition for 7,500 Merit Scholarship awards worth nearly $30 million that will be offered next spring. To be considered for a Merit Scholarship award, Semifinalists must fulfill several requirements to advance to the Finalist level of the competition. About 95% of the Semifinalists are expected to attain Finalist standing, and approximately half of the Finalists will win a National Merit Scholarship, earning the Merit Scholar title.