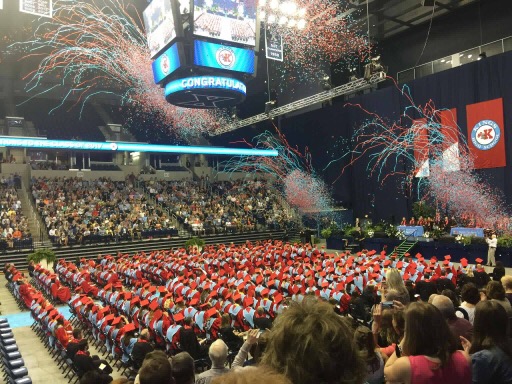 On Saturday, May 20, after much pomp and circumstance, the Kings High School Class of 2017 graduated. This year's graduating class of 306 boasted more than $4.3 million in scholarships, volunteered over 30,000 community service hours, 157 graduated Cum Laude, Magna Cum Laude, or Summa Cum Laude, and 97 with honors! Additionally, they had eight National Merit Commended Scholars and three National Merit Finalists, and these students were accepted to over 150 different colleges and universities. Lastly, 157 students in the class had a GPA of over 3.5!
Alison Kindl was the honored vocational student, presented by Warren County Career Center Director of Secondary Education, Rob Robison. Megan McMahon and Kyle Glennon earned the Academic and Activity Excellence Award presented by the Kings Board of Education. The Valedictorian of this year's class was Hannah Rasmussen and Salutatorian was Anders Wikum.
This year, graduation ceremonies were livestreamed so those who couldn't make it to graduation could still watch via the internet. To view a gallery of pictures from the day click here.