Side Menu Ends, main content for this page begins
Back to Side Menu (includes search)
KHS Chamber Choir Selected to Perform at Choir Festival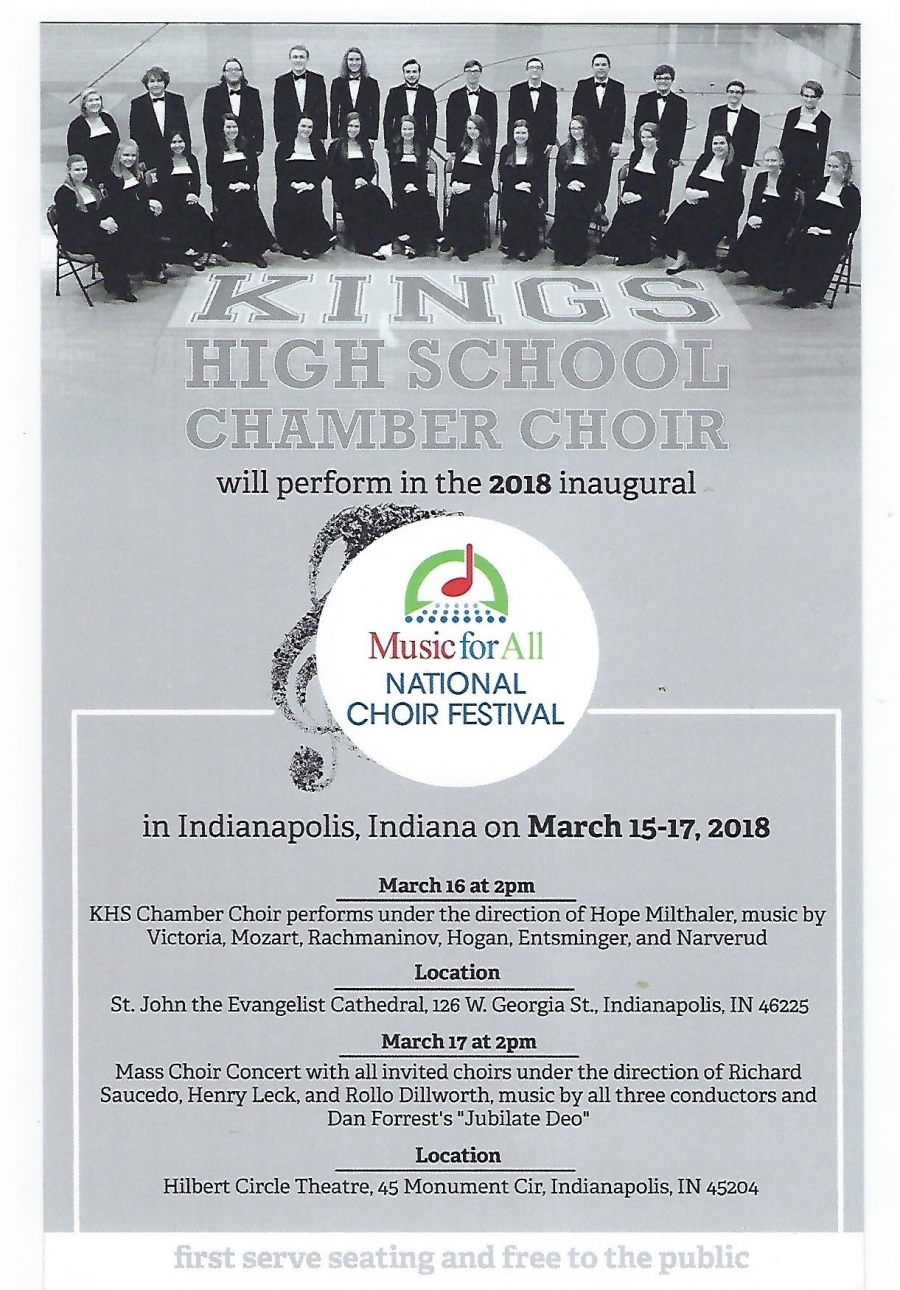 The Kings High School Chamber Choir has been invited to perform at the premiere Music for All National Choir Festival, part of the 2018 Music for All National Festival in Indianapolis, Indiana, March 15-17, 2018.
The Choir was selected by a panel of renowned choral conductors, by recorded audition, to be one of the charter groups singing at the debut national event. Under the direction of Hope Milthaler, the Choir is made up of 27 talented male and female voices representing all four grade levels at KHS. The music they sing is advanced high school to collegiate level of difficulty and represents a wide variety of styles.
"We are honored to be invited to participate in this National event. As their director, it means a great deal to be able to provide an opportunity for them to show some of the finest choral experts in our field exactly who we are," said Milthaler.
Kings High School Chamber Choir is one of 71 high school and middle school choir, orchestra, chamber ensemble, concert band, and percussion ensembles from across the nation selected to perform at the 2018 Festival.
On Friday, March 16 at 2:00 p.m., they will perform an individual set of 6 works by Victoria, Mozart, Rachmaninov, Hogan, Entsminger, and Narverud in the magnificent St. John the Evangelist Cathedral, 126 W. Georgia St., Indianapolis, IN 46225.
The Choir will then perform in a Mass Choir Concert with all invited choirs (500+ singers) accompanied by the Ball State Symphony Orchestra at the Hilbert Circle Theatre, 45 Monument Circle, Indianapolis, IN 46204 on Saturday, March 17 at 2:00 p.m.
Family and friends are invited to attend the performances which are first serve seating and free to the public. Anyone who would like to watch either performance via live feed can follow this link to subscribe to watch (payment required): http://bit.ly/2qXHDCF. Both performances are first serve seating and free to the public.
The Chamber Choir will give a preview concert on Tuesday, March 13 at 7:00 p.m, in the Kings High School Auditorium along with All the Kings Men and the Women's Chorale. Milthaler added, "The choir is tremendously honored to represent Ohio, Kings High School, and their beloved Kings families, friends, and community on the national stage at this prestigious event!"