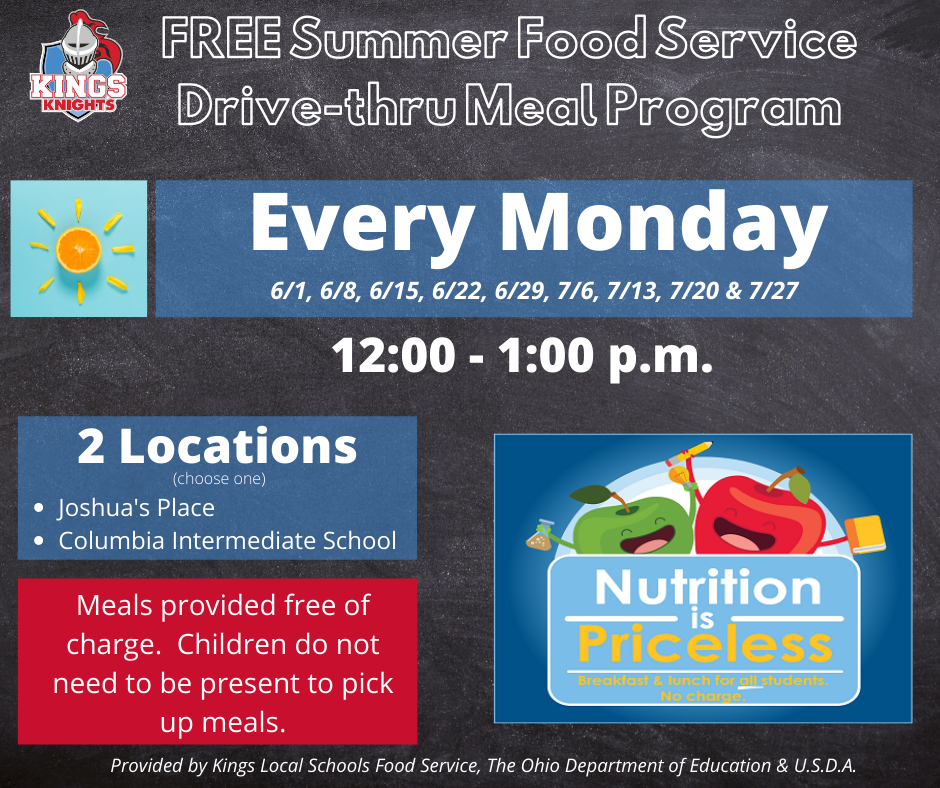 The Kings Local School District is participating in the Summer Food Service Meal Program. This program will provide breakfast and lunch to ALL children 18 and under, free of charge regardless of what school and/or school district they attend, and not just for those students on free or reduced meals.
NO paperwork is required. Youth 19-21 that have a mental or physical handicap (as determined by state or local education agency) and who participate during the school year in a public or private nonprofit school program are also eligible for the meals at no cost.
We will offer these services through the months of June and July. Meals can be obtained by drive-thru at the pickup locations listed below. CHILDREN DO NOT NEED TO BE PRESENT WHEN PICKING UP MEALS. All meals are provided free of charge.
There are two locations available for food pickup; Joshua's Place or Columbia Intermediate School. Both locations will hold pickup from 12:00 - 1:00 p.m. Please choose one location most convenient for you.
To date, Kings Food Service and their volunteers have distributed nearly 50,000 meals to our community!
Thank you to the Kings Food Service Department and Kings Staff volunteers for feeding our community! #KingsStrong