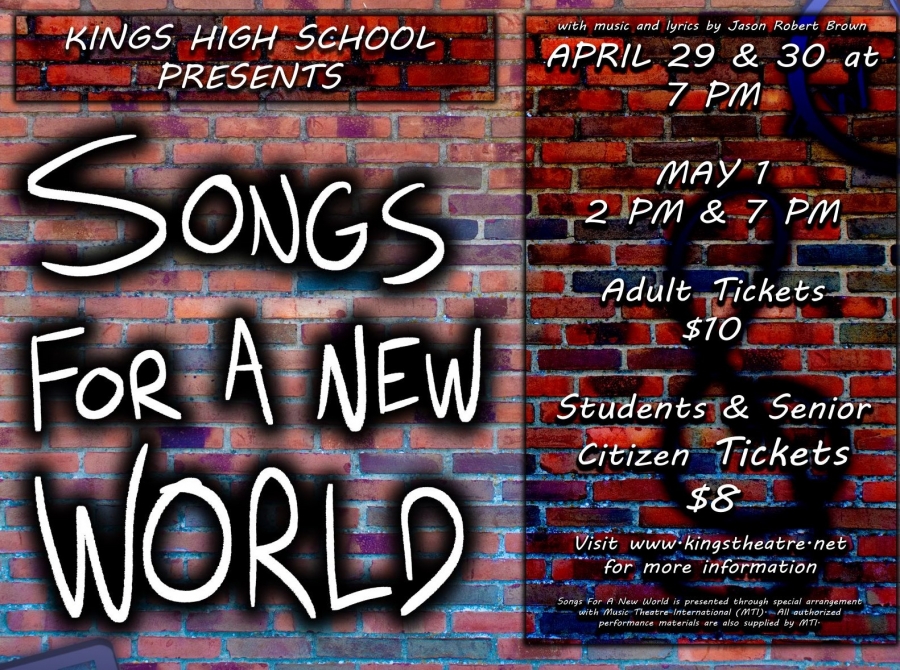 Support the Kings High School Theatre Department by attending their next show, Songs for a New World, April 29 & 30 and May 1.
One of the characters in Songs for a New World says, "I don't want to philosophize. I just want to tell a story." And that line describes Songs for a New World perfectly; in fact, it tells a whole collection of stories.
Every song in the show is essentially about the same thing: those moments in life when everything seems perfect and then suddenly disaster strikes, in the form of the loss of a job, an unexpected pregnancy, the death of a loved one, the end of a marriage, imprisonment, even suicide. But it's even more about surviving those moments. It's about the way we regroup and figure out how to survive in a new set of circumstances – a new world – even against seemingly overwhelming odds.
Shows on April 29 & 30 at 7:00 p.m. and May 1 at 2:00 and 7:00 p.m. Due to COVID-19 restrictions, there are only a limited amount of tickets available for purchase at
www.kingstheatre.net/tickets
. Get yours today!