Side Menu Ends, main content for this page begins
Back to Side Menu (includes search)
Kings Theatre Presents Fahrenheit 451
Posted on: November 14, 2018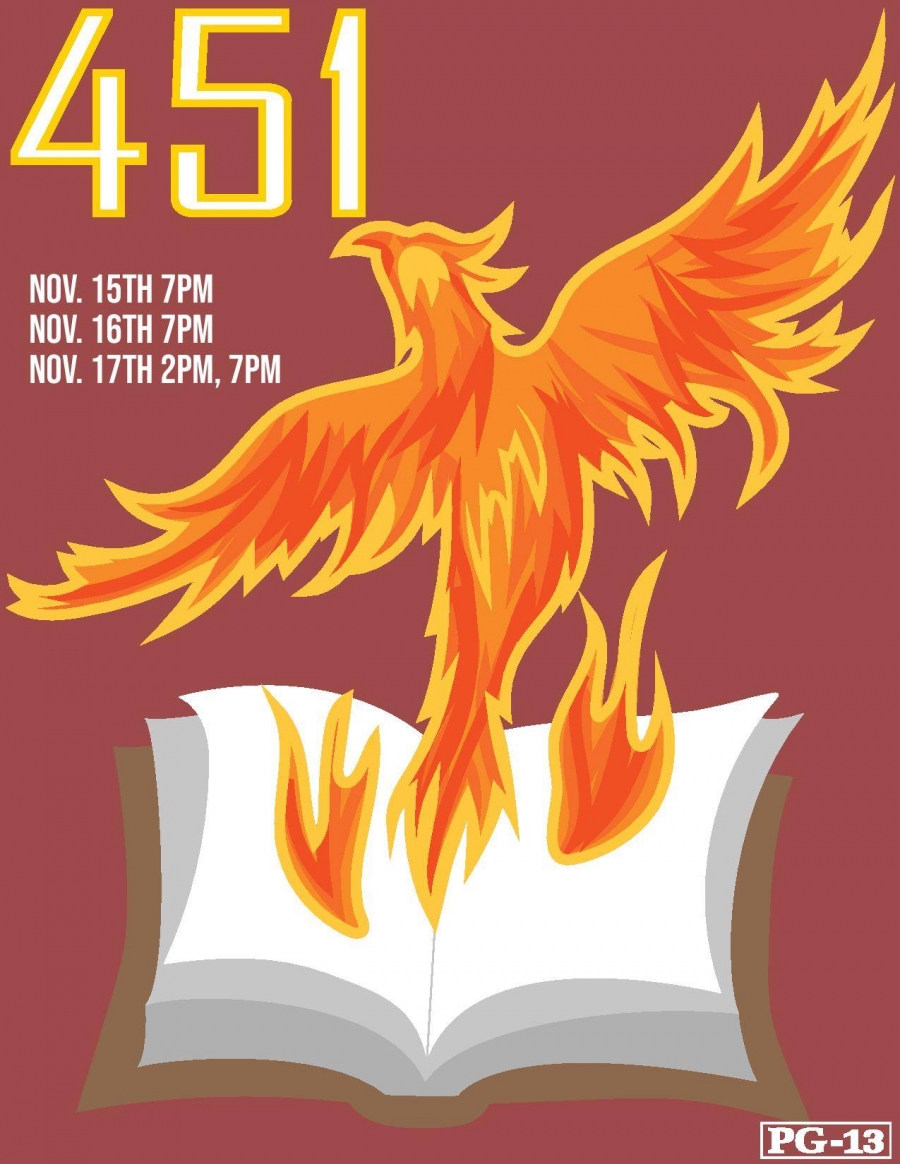 Kings Theatre presents, Fahrenheit 451. This story was originally written as a novel in 1953 by Ray Bradbury. He then turned it into a stage play in the 80s. The novel has been a staple of our Kings High School sophomore English curriculum for years.
Although the original novel was set in 1999, Bradbury's stage play is set in approximately 2059. The main character is Guy Montag, a fireman whose job it is to burn books. In Montag's world, most books have been deemed illegal. While book banning began with intention of keeping citizens happy by eliminating offensive material, the censorship eventually became a means for the government to control all information. Montag's world is filled with men and women who indulge in surface-level pleasures and who avoid problems by ignoring them or over-medicating themselves.
As the story begins, Guy Montag has become discontented with his life. He senses that something is missing from his world. He meets Clarisse, a seventeen-year-old neighbor who dares to be curious and who asks Montag a catalyst question: "Are you happy?" Montag begins to clearly see the misery just below the surface of his world, and he comes to the conclusion that books might somehow be a bridge back to a better, more fulfilled existence.
Captain Beatty, the chief of the firemen attempts to mentor Montag through his crisis by bullying him into conformity. All the while, Montag searches for a book guru and finds one in the character of Faber, a former philosophy professor. As Montag struggles through his internal crisis, it becomes apparent that the nation faces an external threat. These conflicts build toward the point of combustion. Where can Montag find sanity and happiness? How long can this plastic dystopia survive?
Showtimes are November 15 and 16 at 7:00 p.m. and November 17 at 2:00 and 7:00 p.m. in the Kings High School Auditorium. Rated PG-13 (for thematic content). Tickets are $10 for adults, $8 for senior citizens and students. Tickets can be purchased at the door or by clicking here.
Click here to see the Cast list.