Side Menu Ends, main content for this page begins
Back to Side Menu (includes search)
Knights Host Supply Drive for Houston
Posted on: September 1, 2017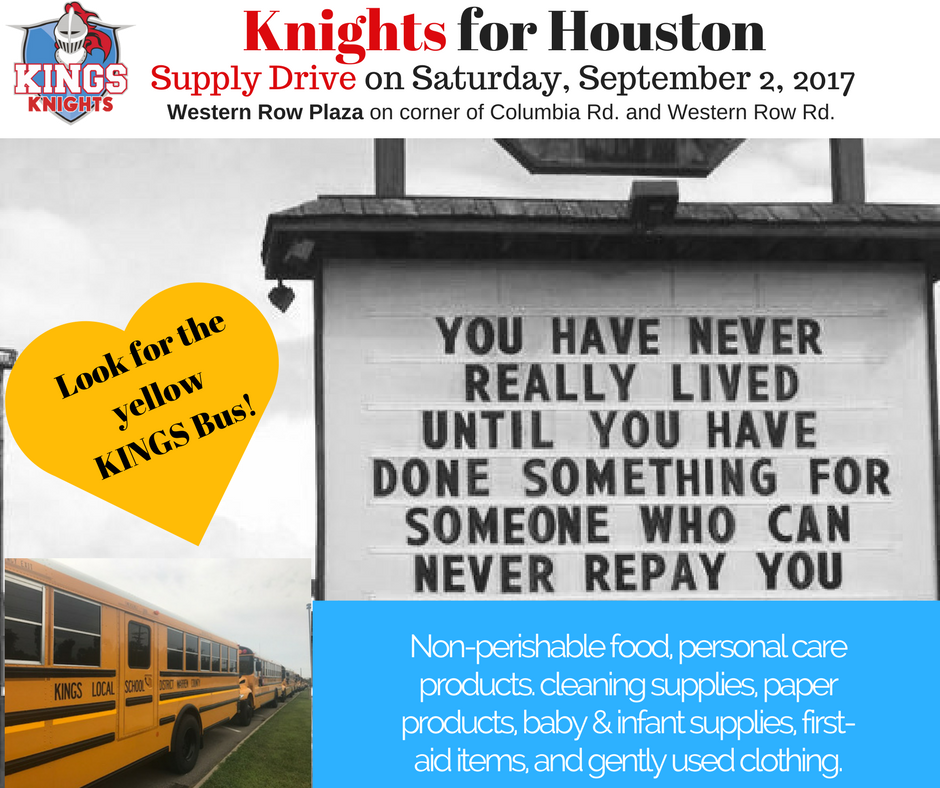 Are you wondering how you can help the residents of Houston? On Saturday, September 2, a Kings Local School District Bus will be parked in the Western Row Center parking lot (corner of Columbia Rd. and Western Row Rd.) from 10:00 a.m.-5:00 p.m. to accept supplies. Kings Bus Driver, Aubrey Tritsch came up with the idea as a way to help.
All supplies collected will be transported to Matthew 25 Ministries to be loaded onto one of their trucks to send to the residents of Houston. Anything donated will be greatly appreciated but especially:
Non-Perishable Food: PULL TOP canned vegetables, fruits etc.; ready to eat dry goods such as nuts, peanut butter, dried fruits, granola and trail mixes, jerky, ready to eat snacks; bottled water; ready- to-eat meals or MRE's, etc.
Personal Care Products: Antibacterial soap, hand sanitizer, toothpaste, toothbrushes, shampoo, body wash, deodorant, lotion, etc.
Cleaning supplies: Laundry detergents, general cleaner, sponges, bleach (powdered form is preferred), mops, scrub brushes, buckets, rubber gloves, etc.
Paper products: Toilet paper, paper towels, etc.
Baby and infant supplies: Diapers, wipes, diaper rash ointment, baby wash, baby shampoo, baby lotion etc.
First-Aid items: Bandages, gauze, pads, first aid tape, antiseptic creams, hydrogen peroxide, alcohol, latex gloves, instant cold packs, etc.