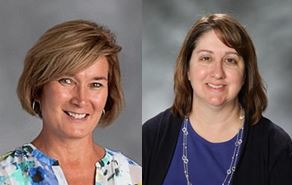 Congratulations to Kings High School teacher, Elisa King and Kings Mills Elementary teacher, Michelle Schumacher who have been named winners of this year's Project Excellence Award, sponsored by the Area Progress Council of Warren County.
​Every year, two teachers from each Warren County school are chosen for this special award. Community members and staff are encouraged to nominate teachers for these awards. Mrs. King and Mrs. Schumacher will be honored at the 30th annual APC recognition banquet scheduled for May 3 at the Warren County Career Center.
The Area Progress Council – a countywide private business organization – started Project Excellence in 1988 as a way to honor and recognize excellent educators. APC solicited funds to create a $1 million endowment for this recognition program. Since its inception, Project Excellence has honored 624 educators and awarded $458,800. Honorees are given $600 for personal use and $300 for their district for a classroom or district-wide project.
Last year's Progress Excellence winners were CIS teachers Holly Mueller and Tracy Kleis. For more information regarding APC/Project Excellence visit www.apcwc.org.