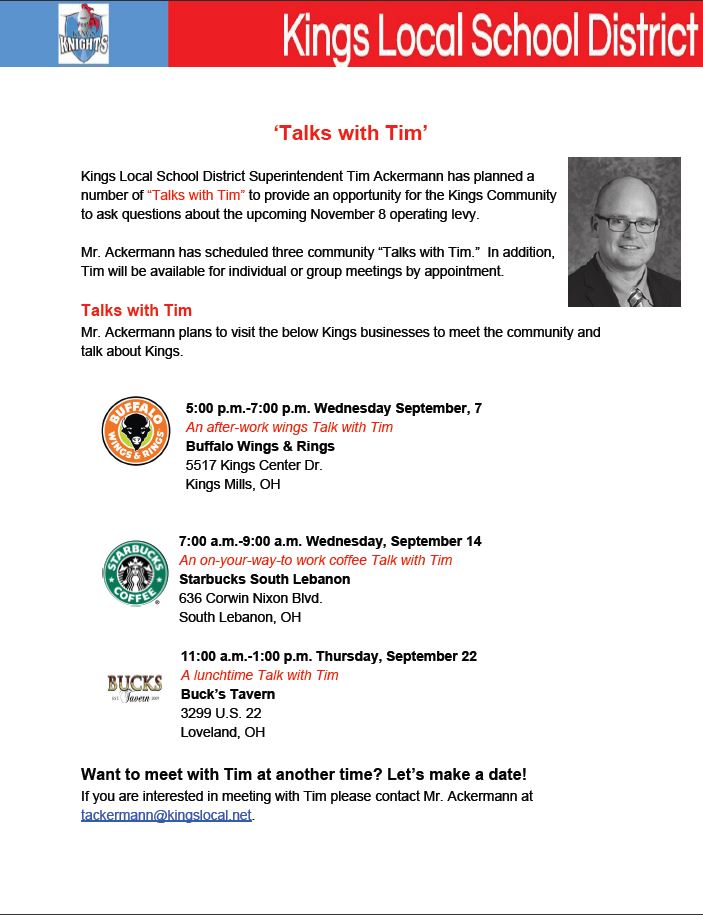 Do you have questions about the upcoming operating levy that is on the ballot on November 8, 2016? Kings Local School District Superintendent Tim Ackermann has planned a number of "Talks with Tim" to ensure the Kings Community understands the importance of the upcoming November 8 levy.
Ackermann has scheduled three community "Talks with Tim" during the month of September. Join Mr.Ackermann on his community speaking tour on one of the three dates listed below.
5:00 p.m.-7:00 p.m. Wednesday September, 7
An after-work wings Talk with Tim
Buffalo Wings & Rings
5517 Kings Center Dr.
Kings Mills, OH
7:00 a.m.-9:00 a.m. Wednesday, September 14
An on-your-way-to work coffee Talk with Tim
Starbucks South Lebanon
636 Corwin Nixon Blvd.
South Lebanon, OH
11:00 a.m.-1:00 p.m. Thursday, September 22
A lunchtime Talk with Tim
Buck's Tavern
3299 U.S. 22
Loveland, OH
Mr. Ackermann will also be available by appointment. Please contact him at tackermann@kingslocal.net.