Side Menu Begins
Side Menu Ends, main content for this page begins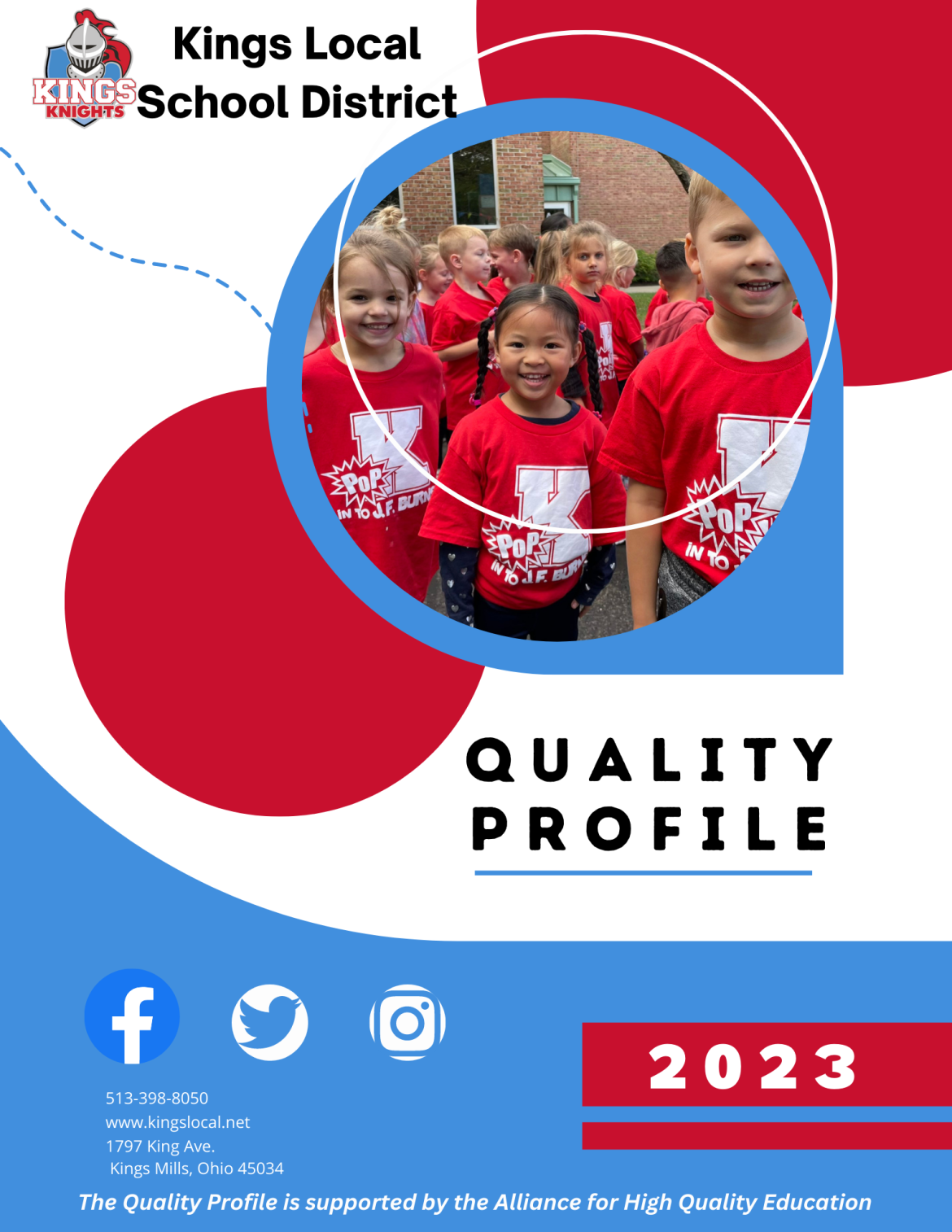 Kings Local Schools District Profile
About Us
The Kings Local School District is located in Warren County in Southwest Ohio. It has three elementary schools, one intermediate school, one junior high, and one high school, with a 2022-2023 total student population of 5,000.
Kings is A Best Community for Music Education from NAMM Foundation.
Kings is home to a State of Ohio National Distinguished Principal
Ohio National Distinguished Assistant Principal
Ohio Hall of Fame Schools (Columbia Intermediate, J.F. Burns, and Kings Mills Elementary Schools)
National Blue Ribbon Award winners (J.F. Burns, Kings Mills, and South Lebanon Elementary Schools)
State Superintendent's School of Distinction (J.F. Burns and Kings Mills Elementary Schools)
Ohio School to Watch (Kings Junior High School)
Kings High School was named top 2% in the nation by Newsweek and U.S. News and World Report
In addition to having outstanding college preparatory and general courses of study, Kings High School is affiliated with the Warren County Career Center to offer courses such as Project Lead the Way, Medical Detectives, Automation & Robotics, Biomedical Science, and more.
The District promotes and supports high achievement with technology, a Gifted Program, and English as a Second Language Program (ESL is for bilingual and English language learners).
Kings students learn for life. Over 94% of our 2023 graduates planned to go on to higher education. In 2023, more than $4 million was awarded to Kings graduates in scholarships and grants.
Our students take great pride in their academic and extracurricular accomplishments. The strong support of the PTO (parent-teacher organization), Athletic Boosters, the surrounding business community, and local governments enhance the lives of our students.
Kings students are very involved in fine arts and extracurricular activities. At the high school alone, 96% of our students participate in some extracurricular activity.
Kings Junior High offers 30 athletic teams and Kings High School offers 61 athletic teams. Not to mention, 690 KHS athletes earned a 3.5 GPA or better!
We offer a comprehensive preschool and childcare program that has been awarded the 5-Star Step Up To Quality designation from the Ohio Department of Education.
While we believe there is some value in the report card data, we do not believe that the state report card represents the accomplishments and successes that occur daily in our school district.
Kings Local Schools joined more than 85 districts throughout Ohio in releasing a Quality Profile, a comprehensive, community-oriented companion to the state's Local Report Card. The profile includes additional accountability measures that better define a high-quality education and are not included in the state's report card.
We hope our community finds this report helpful as they measure the quality of education our school district brings to the community.