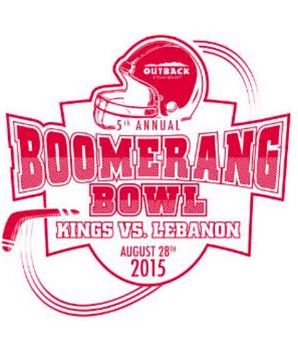 Thank you to everyone who came out last Friday and supported the Knights in their final "tune up" against Northwest. For "Sammy Simonson Knight," we were able to raise over $2,200 dollars for the Make-A-Wish Foundation for Ohio, Kentucky and Indiana! It was truly a great night for Knight Nation!
This week, on Friday, August 28, the Varsity Football team officially kicks off it's 2015 campaign as they travel north to take on the Lebanon Warriors in the 5th Annual Outback Steakhouse Boomerang Bowl at 7:00 p.m. at Lebanon Junior High School. Pre-Sale tickets will be available in the High School Athletic Office beginning Wednesday at 7:30 a.m. through Friday at 3:00 p.m. Pre-Sale prices are $6.00 for Adults and $4.00 for Students. Tickets at the gate are $7.00 per person.
In conjunction with the game, Outback Steakhouse will be hosting a Pre-Game Tailgate party at the Lebanon Baseball Field from 5:00-7:00 p.m. The Tailgate is open to adults and students for both schools. T-Shirts for the Boomerang Bowl Tailgate are $10 and are available in the athletic office now!
If you can't make it to tonight's game, you can watch and listen LIVE by clicking this link.