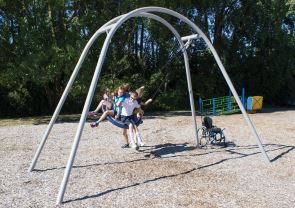 Congratulations to Columbia Intermediate School for being awarded a $4,940 Lowe's Toolbox for Education grant! The grant money will be used to fund the 5th Grade Diversity/Disabilities Awareness Community Service Project.
The grant was based on the goal of the 5th grade students becoming aware and understanding the needs of the special needs students in their school and community, and to help them create a school environment that is inclusive of everyone, regardless of their disability.
This year, all 5th graders have been learning about diversity and empathy by reading the novel Out of My Mind by Sharon Draper. They have participated in fundraising for a new adaptive playground swing that will allow all students to interact and play together, fostering positive relationships and attitudes. With this grant, the new adaptive swing will be purchased and is expected to be installed by August.
Special thanks to CIS Media Specialist, Kelly McKiernan for writing the winning grant. On May 19, all fifth grade students will participate in Diversity/Disabilities Awareness Day where students will rotate through simulation stations to experience to a certain degree, what it feels like to have a disability.