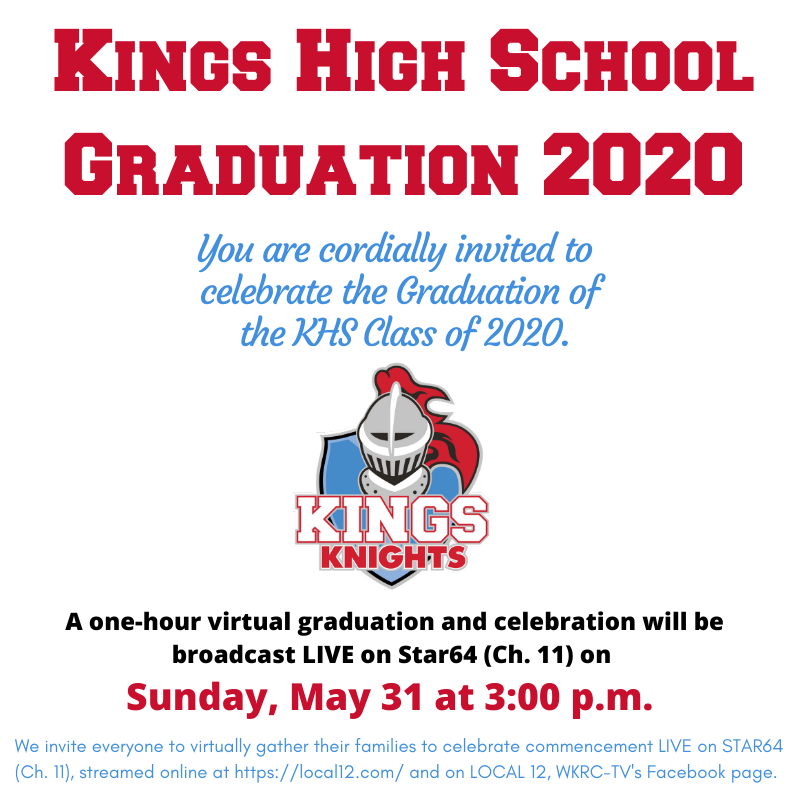 You are cordially invited to celebrate with the Kings High School Class of 2020. Cincinnati's Local 12 is pleased to announce a virtual graduation and celebration of the achievements made by Kings High School class of 2020. We will host an online ceremony recognizing every student complete with Kings High School's keynote speakers and more.
We are excited to share memories, videos, and all the special moments that shaped the class of 2020. We invite everyone to virtually gather their families to celebrate commencement both on TV and streamed online at
https://local12.com/
*
The special show is streamed at the same time it airs on STAR64 (WSTR) on May 31 at 3:00 p.m.
We also invite you to start watching in the next week special congratulations messages to the Kings Class of 2020 on Local 12 TV station.
Where to find STAR64:
Over the air = 64.1
SPECTRUM = Ch. 11, 1011
CINCI BELL = Ch. 11, 1011
DIRECTV = 64
DISH = Ch. 8354
*when you log onto Local 12, look for the banner of the homepage directing you to click watch.