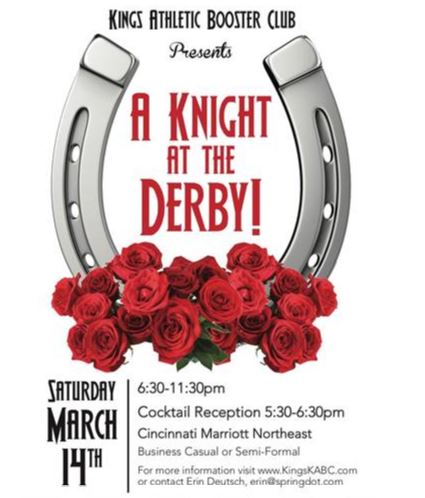 KABC is proud to present, "Knight to Remember: A Knight at the Derby" on Saturday, March 14th from 5:30 p.m. to 11:30 p.m. at the Cincinnati Marriott Northeast, Mason. The Early Bird ticket price of $70.00 will increase to $80.00 beginning Monday, February 24th! Our always-popular Happy Hour will be from 5:30 p.m. to 6:30 p.m., followed by a sit-down dinner (NY Strip, Braised Short Ribs, Chicken Napoli, or Penne Pasta) and a live auction beginning at 6:30 p.m.! This is the Kings Athletic Booster Club's annual Fundraiser which benefits over 90 Kings High School and Junior High School athletic teams! This is your exclusive invitation for this year's event!
A Knight at the Derby wouldn't be complete without some racing! After dinner and live auction, head to the horse tracks for your chance to win a top prize of the evening! Cincinnati Circus Company will be on site to provide live simulated horse races for your entertainment! Your initial racing entry fee of $500 is covered in the price of admission. We can't wait to see you at the races and remember to dress in your favorite Derby attire! Those with winning horses will be entered into a raffle prize at the end of the event!!
After your stop at the tracks, be sure to enjoy the live band entertainment, a wide variety of basket raffles from local partners, silent and live auction, sports consignment, and more! Our registration system will allow you to bid on items directly from your phone the night of the event and expedite your check out process!!
To register, RSVP, and purchase tickets through KABC's website, click HERE! You can also mail your check for tickets to: Knight to Remember, c/o Erin Deutsch, 5500 Columbia Road, Kings Mills, 45034. For questions or VIP table reservations, please contact Erin Deutsch at erin@springdot.com or Tyler Miller at tmiller@kingslocal.net. Dress in your favorite derby attire!!
Come and celebrate our amazing community with a "Knight at the Derby" and support our student-athletes!
**ALL TICKETS AND RSVP'S MUST BE RECEIVED BY MARCH 6TH**
JOIN US FOR WHAT WILL BE A KNIGHT TO REMEMBER, DERBY STYLE!!
YOU MUST BE 21 AND OVER TO ATTEND THIS EVENT!