Side Menu Ends, main content for this page begins
Back to Side Menu (includes search)
Kings Music Program Among the Best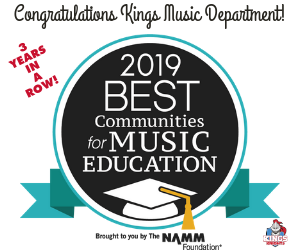 The Kings Local School District has been honored for the third year in a row with the Best Communities for Music Education designation from The NAMM Foundation for its outstanding commitment to music education. This year, only 623 school districts were chosen nationwide.
The Best Communities for Music Education designation is awarded to districts that demonstrate outstanding achievement in efforts to provide music access and education to all students. To qualify for the Best Communities designation, The Kings District answered detailed questions about funding, graduation requirements, music class participation, instruction time, facilities, support for the music program, and community music-making programs. Responses were verified with school officials and reviewed by The Music Research Institute at the University of Kansas.
Kings Superintendent, Tim Ackermann said, "We are so fortunate to be able to provide our students with a high-quality music program. We thank our community for supporting us so that we can continue to offer those programs. I am very proud of our talented student body and dedicated teachers!"
This award recognizes that the Kings Local School District is leading the way with learning opportunities as outlined in the Every Student Succeeds Act (ESSA). The legislation guides implementation in the states and replaces the No Child Left Behind Act (NCLB) which was often criticized for an overemphasis on testing-while leaving behind subjects such as music. ESSA recommends music and the arts as important elements of a well-rounded education for all children.
We would like to acknowledge our amazing Music Department Staff - Carolyn Dillon, Scott Hayward, Matt Jenkins, Jen Maegly, Mike Maegly, Brian McDonough, Hope Milthaler, Joe Polen, Jennie Reeder, Melanie Sherby, and Rana Southern.