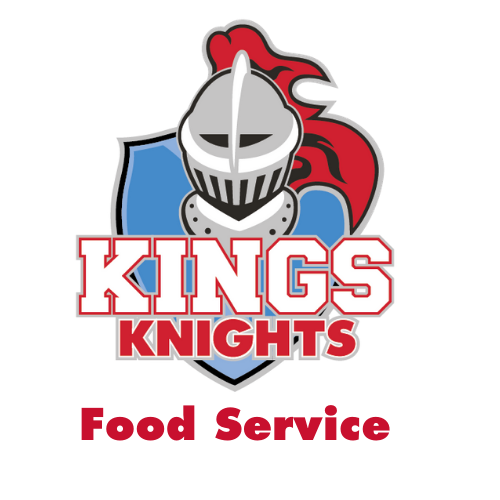 Recent legislation by the United States Department of Agriculture(USDA) and under the direction of the Ohio Department of Education, effective Thursday, September 10, ALL Kings students will be provided FREE breakfast and FREE lunch meals.
During the COVID 19 pandemic, the USDA provided unprecedented flexibility to allow us to feed children through federally supported funds. The Kings Food Service Department continued to meet the needs of our students during that time. The recent legislation allows us to feed children at no cost to the District and will remain in effect until December 31, 2020, or until the expiration of the federally declared public health emergency (COVID19) or until federal funding is depleted, whichever is earlier.
All Kings students, whether they are In-Person Knights, Virtual Knights, or Online Knights will have the free meal opportunity. For all Distant Online Learners enrolled in Kings Local School District, the Food Service Department will be providing a drive up meal pickup program. Meal packs will be provided that will include 5 breakfast meals and 5 lunch meals which will include a variety of fresh and ready to prepare foods. Our drive-up meal distribution will begin during the week of September 14. All families with children enrolled in Distant learning programs will receive a signup pre-order form this week.
We encourage families to continue completing the free and reduced meal applications. Upon the closing of the benefit on December 31, 2020, the application will remain on file allowing the family to extend the free or reduced benefit based on their eligibility. Click here to complete the free and reduced meal application. Or, you can print an application from our School Website and send it to 1797 King Avenue, Kings Mills, OH 45034. Copies can also be picked up in the school offices.
All existing funds will remain in the student's lunch account that can be used for ala carte purchases and for meal purchases after December 31, 2020.
Beginning tomorrow, In-person Knights don't need to do anything but show up at the cafeteria for FREE meals!
Our District is thankful for the support of the U.S. Department of Agriculture and to the Ohio Department of Education for providing this opportunity for the students. We would also like to extend a special thank you to our Food Service Employees for making sure all of our Knights are well-fed!
If you have any questions, please contact Kings Food Service Director, Jennifer Arlinghaus at jarlinghaus@kingslocal.net or 513-398-8050, ext. 10027.
The U.S. Department of Agriculture prohibits discrimination against its customers, employee, and applicants for employment on the basis of race, color, national origin, age, disability, sex, gender identity, religion, reprisal, and where applicable, political beliefs, marital status, familial or parental status, sexual orientation, or all or part of an individual's income is derived from any public assistance program, or protected genetic information in employment or in any program or activity conducted or funded by the Department. (Not all prohibit bases will apply to all programs and/or employment activities.)If you wish to file a Civil Rights program compliant of discrimination, complete the USDA Program Discrimination Compliant Form, found online at http://www.ascr.usda.gov/complaint_filing_cust.html, or at any U.S.D.A. office, or call (866) 632-9992 to request a form. You may also write a letter containing all of the information requested in the form. Send the completed form or letter to us by mail at U.S. Department of Agriculture, Director, Office of Adjudication, 1400 Independence Avenue, S.W., Washington, D.C. 20250-9410, by fax (202) 690-7442 or email program.intake@usda.gov Individuals who are deaf, hard of hearing or have speech disability may contact U.S.D.A. through the Federal Relay Service at (800) 877-8339; or (800) 845-6136 (Spanish). This institution is an equal opportunity provider